Welcome
Senlac Self Storage offer flexible, secure and cost efficient storage solutions for domestic and business customers. We have a range of options to suit every need, from our smallest Senlac Pods (15 sqft), up to our largest heavy duty steel containers (160 sqft).
All storage options are located inside our cctv secure 22,000 sqft weatherproofed premises. All Senlac Pods are secure with the larger containers secured by heavy duty padlocks for maximum protection. Our clients are the only keyholders, however we can hold keys for you on request.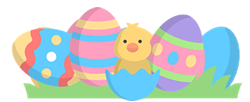 Opening Hours
MONDAY to FRIDAY 08.00 – 16.30
SATURDAY - 09.00 - 12.00
SUNDAY & BANK HOLIDAYS CLOSED.

We will be closed for the whole Easter weekend so that's the 19th, 20th, 21st, 22nd.
We're back open on Tuesday 23rd April.

Happy Easter